Equipment & Cleaning Supplies
The equipment and cleaning products used play an integral part in maintaining buildings and
compounds in their best condition. N.A.P. Service and Trading Co.,ltd uses only high quality
equipment and cleaning products with international certifications for standard and safety.
In some cases, business and office owners may decide to undertake the maintenance tasks of
their premises themselves. The main problem we often encounter when we go in to perform large
scale annual cleanings is the use of substandard equipment and cleaning products as well as
cleaning personnel who lack proper cleaning experience. On occasion chemical products that are
harmful to humans was also found to have been used. This often result in the cleaning process
leaving stains, marks and other damages that are either hard to remedy or in some cases
permanent.
As a result N.A.P. Service and Trading Co.,ltd has become the official dealer of many types of high
quality equipment and cleaning products each with international certifications for standard and
safety. We also give advice and consultation to our clients on how to best utilize the products to
achieve optimum results.
The types of products are as follows
- Products for the daily cleaning of floorings and
other surfaces.
- Products to preserve and maintain flooring
condition.
- Floor shining and waxing products.
- Products for dust removal.
- Glass cleaning products.
- Cleaning and sanitization products for the
restroom.
- Dishwashing liquids and kitchen cleaners.
- Other miscellaneous products.
- Cleaning equipment for all types of cleaning.
More about our R&D Department, Click >>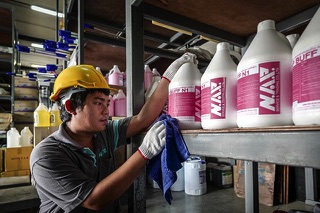 More Photos
Click at the thumbnails for bigger view.
Equipment & Cleaning Supplies